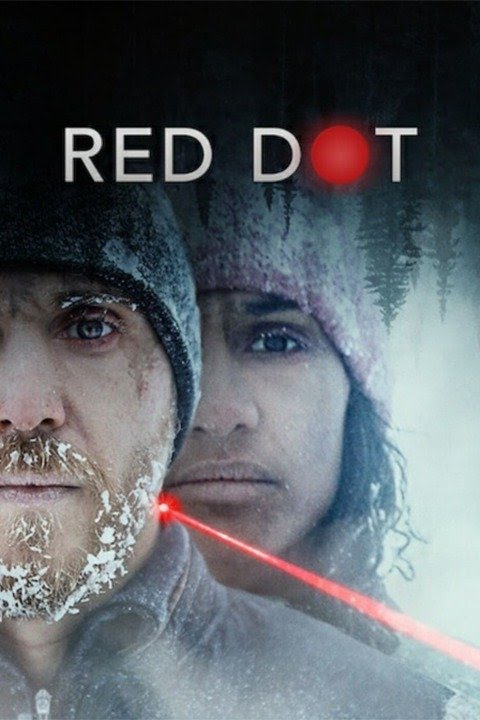 With most theaters still being shuttered, streaming services have capitalized on the opportunity to bring some new releases straight to your TV with, of course, paid subscriptions weather it be HBO Max, Netflix or Amazon Prime. Just to mention a few in short synopsis I'll start with Red Dot (2021) staring Nanna Blondell as Nadja and Anastasios Soulis as David. This Netflix exclusive has a newly-wed couple attempting to rekindle their marriage by hiking the Sweden mountains. Soon they have unwanted company stalking them and their journey becomes a fight to survive. To make it more intense, Nadja is pregnant and it is very cold. Alain Darborg is the man in the directors chair and penned the script as well.
This terror will keep you guessing right up to the end and answer your questions. Nadja, who is studying the medical field soon became my favorite character to follow and will become yours. The title Red Dot comes from the laser of the firearm used to hunt the couple. That's all you get from me. 4 stars
Next up is Below Zero as Netflix seems to be on a roll. Hey, taking advantage of this pandemic is attracting more stay-at-home viewers and smart tv sales are sky rocketing. This is another subtitled movie this time from Spain. Don't sell these movies short. Come award time, they could hit it big but we just never know what others will get lost in the shuffle.
The story evolves around a prisoner caravan transporting Spains highly dangerous criminals driven by Martin (Javier Gutierrez). The van is stopped in it's tracks and trouble is on the outside of the armored van plus bad boys inside and viciously cold temps to contend with. I didn't know Spain got that cold but that and the snow played a heavy role throughout. We get acquainted with all the prisoners and since I won't detail all the story (no spoilers here) it's every man for himself and will have you edgy from the start with the strip search. Martin is just trying to survive his rookie day in this adrenaline filled action movie. 4 stars