In 2017 the movie world was introduced to director Patty Jenkins. She introduced the world to a famous DC live action character Wonder Woman who was portrayed by Gal Gadot. It was a tremendous box office success. In our current era of 2020, Jenkins whipped up a second helping of her hospitality with Wonder Woman 1984. The only problem is 2020 has been not a bad year but a terrible year. However, after a few promised theater openings that keep getting ping ponged we finally have a Christmas 2020 release. The only kicker is it is partially in theaters that aren't shuttered and on streaming services namely HBO Max.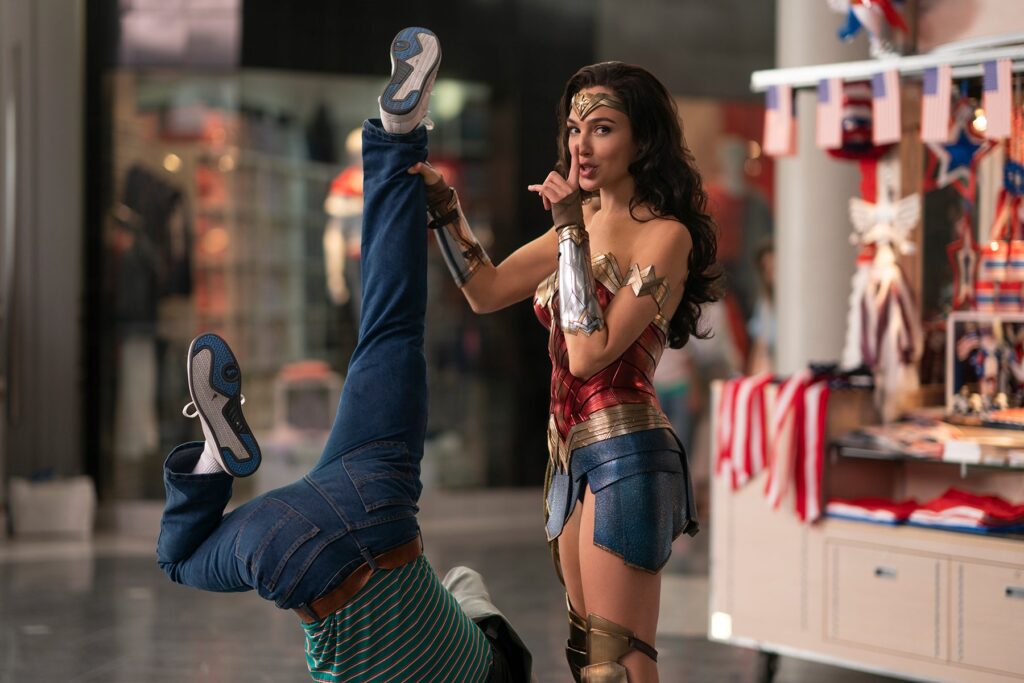 The 150 minute movie opens with a very young Diana competing in amazon games at Themyscira and almost nearing the finish line until Antiope pulls her. Diana throws a hissy fit because the lesson to be learned here is attitude not just strength. Fast forward into 1984 Diana is grown and trying to fit in with the public while keeping her powers to herself and landing a job at a museum. She discovers a strange, mysterious rock. She hooks up with co-worker Barbara (Kristen Wiig) and idols Diana as he can get all the guys while Barbara can hardly get a wink. She picks up the strange rock, makes a wish and transforms into an eye-guzzling woman.
That wish suddenly turns her mad and she hooks up with the big man of the company (Pedro Rascal) and disasterly deeds are formed all centered around the make-a-wish stone. Barbara turns into a cheap looking cheeta which we never got the complete details of then it's a chick fight with minimal screen time for the pussy cat that Tarzan would to call his own. Maybe in chapter three which I'm sure it's coming but this is only Christmas 2020 and the movie is freshly released today. Also, keep in mind streaming services don't always kiss and tell their numbers.
A lot of her heroic action is done out of camera range as Jenkins obviously deemed that necessary. Remember in the first WW, Diana's love interest Steve went down in his plane and perished (off camera of course). Steve (Chris Pine) magically reappears, or at least his soul does, as a engineer. Or it could just be a wishful dream for Diana. As Wonder Woman she does not forget her outfit and shows up to battle an army, gets wounded as well as her powers and still saves the day. But can she save the box office? I say you decide. It is not as wonderous as it could have been and that is not the lasso of truth talking either The jury is still out on the body transformations too. Make Hollywood great again as they are the money horders to all films good and bad. My fear is many post-phoned films from months ago will go straight to streaming services with new releases tail grabbing their ass. 2021 is just a kiss away so we'll see. I give this film a C.