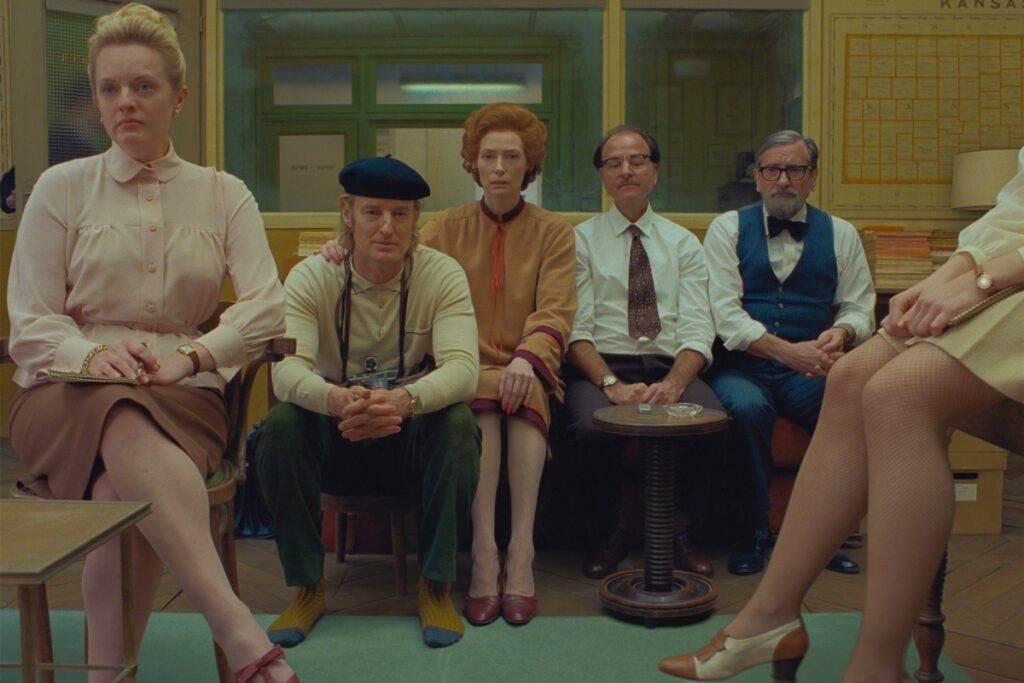 What a gem of work Wes Anderson has created with The French Dispatch, his latest effort and on a 25 million dollar budget to boot. This film stars so many fine actors that is a lot to name. Benicio Del Toro, Adien Brody, Timothee Chalamet, Frances McDormand, Bill Murray, Owen Wilson and Henry Winkler for starters who have major roles even though there are so many cast members. The story is told in split screens, prop changes, animation and costume changes and is based on a fictional publication founded by Arthur Howitzer Jr (Bill Murray) from 1925 till his death in 1975 who recruits writers to go hunt down stories. See the funeral segment in the final sequence to really appreciate this organic one-of-a-kind Anderson film.
New Yorker Wes Anderson has been infatuated with France, made it his home for years and The Dispatch is like a love letter to his family with a collection of stories within stories, love letters, paintings and food and this is a three part story based on the final issue running about 30 minutes each with Owen Wilson as writer Herbsaint Sazerac showing how the magazine has grown and operates. Jeffery Wright does a fine job as he narrates and talks food.
This might be his best work to date as well and with Roman Coppola, the co-writer, playing the magazine's cartoonist I would see this masterpiece again but would have to pay. The view of the river washing up dead bodies and the comedic bike mishap and the painting of a nude woman and the funeral of Howitzer make this film exquisite. The film is told in black and white and color with set props and animation to make it more fun with a lot of style and depth.
One 4-second shoot with Chalamet who will now have two back-to-back hits in a row with Dune being under his belt, pining a piece of paper by a jukebox was finalized after 45 takes. That's how Wes works–to perfection as he demonstrated that in his first animated project Fantastic Mr. Fox. This film is rated R and opens October 28, 2021 and is must see as it was the Heartland Film Festival. 5 stars