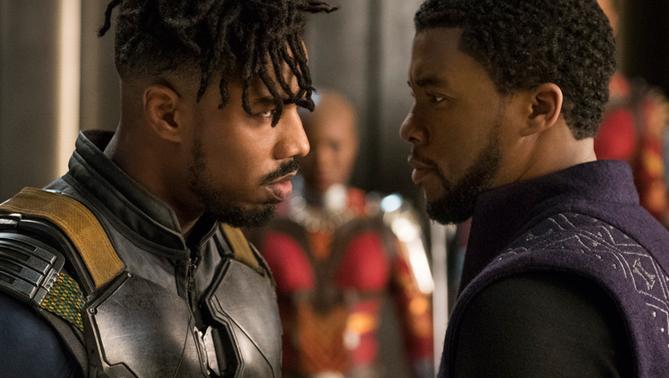 I really am a big huge Marvel fan and am proud of it. Some will argue between DC and Marvel and they both have their superheroes. But wait and see Marvel's 18th film the the MCU, Ryan Coogler and Kevin Feige's The Black Panther then think about all those characters. This film is a different kind of a comic-book movie as it focuses on black ensemble characters that really don't posses any hard action sequences but with has some cool gadgets that James Bond would love to call his own. This film challenges any thing Marvel has done and with a muscular impact to the superheroes with Chadwick Boseman (Marshall) as our main attraction.
After the death of his father King T'Chaka (John Kani) during a bombing in Vienna as seen in a Captain America: Civil War flashback, PrinceT'Challa (Boseman) pulls together his superhero pawer to defend the fictional nation of Wakanda, as the film mostly stays away from the United States, and with the help of his savvy sister Shuri (the incredible Letitia Wright).
T'Challa dons a black cat onesie suit and with his dead serious disposition with good-ol-fashioned hand-to-hand duels. Wakanda has promised it's precious resource called Vibranium but a former black-ops soldier called Erik Killmonger (Michael B. Jordan) has other plans for it. Here comes the spear-wielding cavalry from the Dora Milaje (Wakand's fighting force) of Danai Gurira and Lupita Nyong'o (Black Panther's flame) who means business and looks fine.
Black Panther is a kid-friendly film, as they all should be and ladies, you will like Boseman's torso. Coogler has an impressive film here even though Boseman's character isn't all that exciting but maybe it will be in the next chapter. This film also stars Daniel Kaluuya, Angela Bassett, Forest Whitaker, Andy Serkisand Winston Duke. English, Korean are part of the dialogue and it looked great in 3-D. Hands down to the choreographer as the car chase scenes were real looking.
Black Panther opens everywhere February 16, 2018. (I give this a B rating)