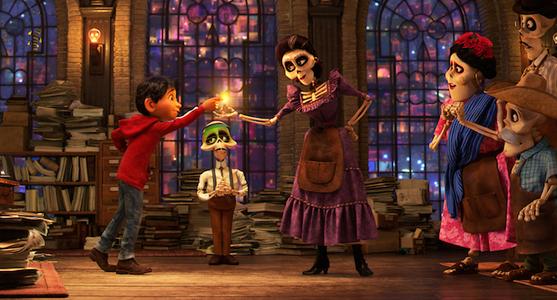 Happy holidays to all movie goers. There are plenty of options at the theater all the time. With one movie replacing the other weekly. And there are plenty of animated films included. My animated flick pick is Disney Pixar ​COCO.
This thoughtful and beautifully animated film is about the Day of the Dead, something that is observed everywhere in Mexico. It's a culture tradition about honoring and remembering every branch of their family history with great perseverance.
Our young hero is 12-year-old Miguel Rivera (voiced by Anthony Gonzalez) who's love for music is completely discouraged by his family who hate music.. However, his great-great-grandfather had a true love for music, which spurred him on to a musical career. Miguel finds a guitar but must conceal it from his family and practice it secretly in order not to offend his family, especially his great-grandmother Coco (Ana Ofelia Murguia), the father of her when she was small. Coco is old now, with fading memory as she just sits in her chair waiting for death. The only words she mutters is "Papa" whom nobody will forget. She is the connection between the living and the dead and that's what this movie is about and the music that connects us all.
Day of the Dead is rapidly approaching and Miguel finds photos of his idol, his great-great-grandfather, Ernesto de la Cruz (Benjamin Bratt) a famous musician and that discovery puts him as one of the living, in the land of the dead, a parallel dimension overlapping ours and keeps ours connected.
His ansestors cannot see him but HE can see Them. He can only return to the land of the living with his great-great-grandmother's (Alanna Ubach) blessing only if Miguel promises not to pursue a musical career. This Pixar movie is such a wonderful journey and the music is worth the price of admission alone. The movie demonstrates how we are all connected in music.
The continuity here is perfect and the dead, as assembled as skeletons, from their eyeballs to their attire is jaw dropping even when their parts disassemble. You have to see to appreciate this rare gem from Disney Pixar. This is all possible from director Lee Unkrich and screenwriters Matthew Aldrich and Adrian Molina. This is pure 100% family entertainment I will surely remember.
This uplifting film opens everywhere on 11/25/2017 and I declare this the animated movie of the year and please take the big kids and small ones to see it.
​
By Bob Higgins 5 stars.​