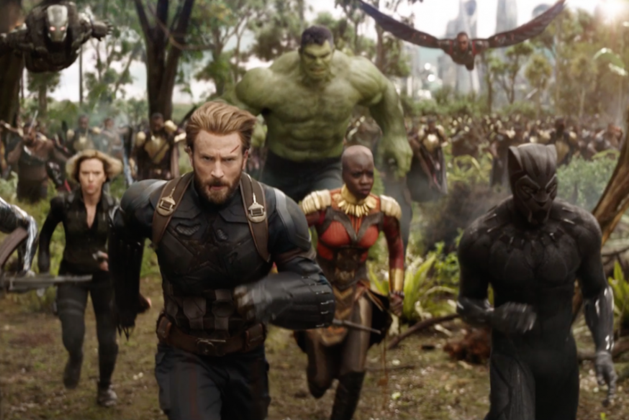 Wow! summer is rapidly approaching and with all of us anxiously awaiting the arrival of warm weather, we also look forward to the summer's blockbusters loaded with super heroes. With all this said, the first 2018 blockbuster arrives in theaters, Friday, April 27 in 2-D or 3-D.
There has been a lot of hype over this epic event and the "Avengers: Infinity War" is a must see especially if you are a fan of the MCU. Even if you are not a follower, check if out for the adventure and fun aspect. I think you'll like it.
The film opens with Thanos (Josh Brolin) attempting to destroy everything and everyone in his path in his quest to posses all six infinity stones that will, combined, give his the power to conquer half the universe. However, he has a few opposing his idea namely Doctor Strange (Benedict Cumberbatch) and Bruce Banner/Hulk (Mark Ruffalo). Thanos's trek leads him to Earth and soon it becomes clear that Dr. Strange and the Hulk aren't enough alone to stop his madness. Let's call in the troops. Here come the Avengers one-by-one starting with a very hesitant Tony Stark (Iron-Man). This sets up a grand entry from the Gardians of the Galaxy with lots of wise cracks and solid humor.
With the fight now taking place on Earth, story weaves many story lines into a 2 hour and 30 minute film that Anthony and Joe Russo at the directing helms have each character having the other's back. There is the Hulk doing his big green thing, and Spider-Man (Tom Holland) swings into action with some nice looking legs and new tricks up his sleeve. Tony Stark officially makes him an Avenger and he does not disappoint. Together the Avengers, including Steve Rodgers/Captain America (Chris Evans), Chris Pratt as the Star Lord, Thor (Chris Hemsworth) and Loki (Tom Hiddleston) take care of business in this spectacular adventure. Josh Brolins's Thanos is the most challenge The Avengers have yet faced. I know there is lots of CGI in these fantasy/sci-fi flicks but between that and the incredible sound score by Alan Silvestri, that makes or breaks a movie. This was a spot-on target, and it is determined to make a billion bucks quick in a production that cost around $300,000,000 to make but is not the most expensive film ever made. More on that another time.
What I didn't like or agree with was when Wakanda was only used as a battlefield. But it got the Black Panther/T' Challa (Chadwick Boseman) and his posse including his two lovely ladies Okoye (Danai Gurira) and Shuri (Letitia Wright) battling Thanos and company. That did no deter me from loving this film and although I saw the screening in 2-D, I think it would look awesome in 3-D. With Robert Downey Jr. being the highest paid actor to date, I'm sure he will get a big chunk of the box office earnings and will return in the yet untitled Avengers 4 in 2019. Stay tuned for Stan Lee's cameo as a bus driver. That's all for the spoilers. the MCU is very much over powering DC so they better hurry up that Wonder Woman sequel so we have a game. This film is rated PG-13 for Sci-Fi violence, action and fantasy and clocks in at 2 hours and 30 minutes. And as always, stay after the credits for a tease. 5 out of 5 stars.