An elite team of naughty mercenaries breaks into a family's house taking all inside hostage. Lurking on the outside is Santa Claus (David Harbour) as the bad men aren't prepared for and he ain't no saint in what's probably one of the year's best films as 2022 approaches a close while squeezing out a few more films.
Tommy Wirkola's action-comedy takes place on Christmas eve when John Leguizamo's "Scrooge" character and his highly-trained robbers crash a Christmas party on a stately manor looking to steal a vault full of money. With a comedic mix of "Die-Hard", "Home Alone" and a few other past Christmas classics with a bloody R violence rating the story focuses on hard-drinking Saint Nick that could make one believe in the holiday or not believe in it. Just stay on his nice list.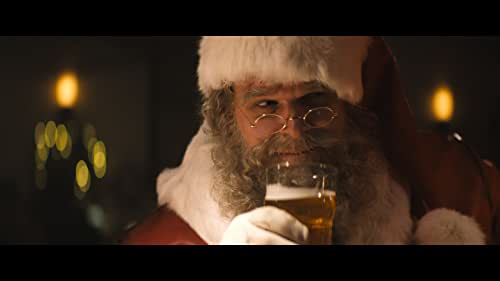 Santa soon finds himself smack-dab in a hostage situation in the Gertrude Lightstone (Beverly D'Angelo) mansion with her two children Alva (Edi Patterson) and son Jason (Alex Hassel who works for his mom but none of them believe in Santa. Screenwriters Josh Miller and Pat Casey (the "Sonic the Hedgehog" films) keep the action moving with granddaughter Trudy (Leah Brady) who truly believes in Santa and Santa communicating via walkie-talkies (think "Die-Hard"). The movie continues with Santa two steps a head of the scrooges by giving them a taste of his past that is mentioned in flashbacks.
Trudy escapes to the attic and keeps the ball rolling with her cute and clever booby traps at the party crashers expense via "Home Alone" style with a ladder included. Santa did not plan on being at the mansion as he was just attempting to drop off gifts, but his sled team bailed out on him so he made the best out of it. Trudy and Santa have a few more tricks up their nose one involving a hot trip up the chimney with Santa and a bad guy who came up and out well done.
Be on the lookout for some good fight scenes particularly one involving a lit-up star ornament as a weapon that will light you up and a sharpened-up candy cane hand crafted by a clever Santa. Harbour's Santa is really a good Santa. Just believe in him This is one of the best films this year. Hopefully Harbour will follow this up with a part 2 and 3. Ho,ho,ho and a glass of beer. 4 1/2 stars.