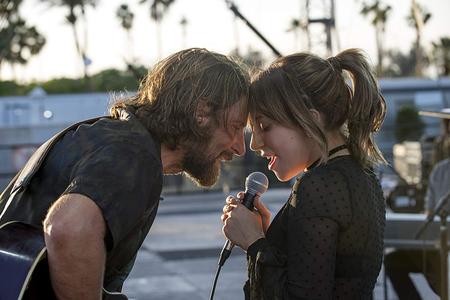 Hollywood must have a closet of redos and sequels some of which needs to go to Goodwill. However, there is a silver lining with the updated version of A Star Is Born in which Bradley Cooper makes his directorial debut in revamping the 1976 edition which stared Kris Kristofferson and Barbra Streisand. That was a great show. Fourty two years later and after 42 days of shooting, actor Bradley Cooper tries his hands at the same drama/musical. He added some extra fuel to the mix with Lady Gaga and Sam Elliot.
You know the story about a musician Jackson Maine (Bradley Cooper) who meets this young singer, Ally, (Lady Gaga) and helps her rise to fame while he is fighting his internal demons. The movie also casts Sam Elliot and their compassionate manager Bobby. This is a gratifying experience and the depth of the characters makes this a must see movie. Cooper and Gaga have an outstanding soulful connection as you could ever ask for. The songs were sang live and not lip-synced with some scenes filmed at the Coachella Festival in 2017 where Lady Gaga was the headliner.​​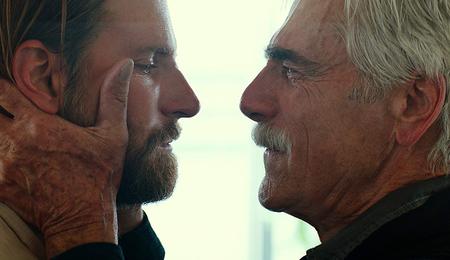 (Sam Elliot and Bradley Cooper's characters conversing)
​​The soundtrack will tantalize your ear buds to much delight and will leave you wanting encores. The cinematography and superb acting makes this the best movie of 2018 thus far and a shout out to their vocal coaches who worked with Lady Gaga and Bradley Cooper throughout the
the planing of this picture and a great big warm welcome for Sam Elliot as he can never go wrong with his acting and it was good to see him have a huge role here. All the characters including Dave Chappelle who played Gaga's friend Noodles had instant chemistry and that convinced Warner Bros to give it the green light for takeoff. The movie is rated R, and clocks in at 2 hours and 15 minutes. This film deserves a high rating of an A and will have competition as Venom creeps into theaters this week as well. See these films October 5, 2018 in wide release.