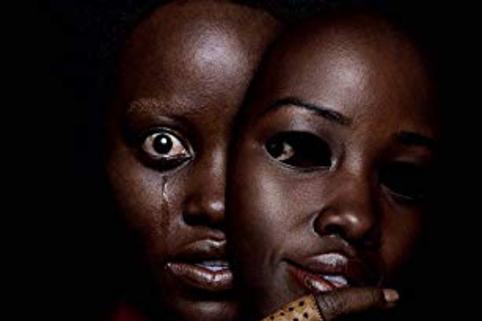 Two years ago the name Jordan Peele became a well known man when his abstract mind created "Get Out" about a black man, Daniel Kaluuya, escaping his unwelcomed stay at his white girlfriend's parent's house. It was incredible spooky with weird and cool twists and turns. It did quite well at the box office. Well enough to deem it necessary for Peele to give us (no pun intended) a second chapter in his nightmarish mind. And this is all about Us. As in the prior one, Peele wrote, produced and directed this one as well.
Universal pictures has another money maker with "US". It comes as a complicated story with some chuckles.
Four masked strangers force themselves into a family's vacation beach home. Leading up to this the wife, Adelaide Wilson (Lupita Nyonglo) had a bad experience from her childhood and that carried over with her through her adult life with the husband (Winston Duke) and her two children. Her bad vibes told her something evil was lurking and it was. The family goes into the defensive mode for a fight for survival.
The strangers are unmasked and they are a ditto replica of each family member and those voices are spooky, creepy and haunting. The stranger's weapons of choice are scissors. The Wilson's choice is what's readily reachable. Those are some of the funny moments. Other moments involve a boat that will earn a hoot. Pay attention to the beach bum holding up a sign showing Deuteronomy 11:11. It will make sense later.
A character whom I thought deserved more screen time was Elisabeth Moss as Adelaide's friend. In summary, US is a very nice follow-up to "Get Out" and at a higher budget for Peele it falls a tad short with lots of questionable holes in comparison although the acting is very good and rabbits run freely. Just immerse yourself, sit back, don't grab your neighbor's arm and just consider yourself one of US because Jordan Peele has proved he is here to stick around for a while. The movie also features Tim Heidecker, Shahadi Wright and Joseph Evan. B​
the gratest showman :
Back in the 1800,s a young man called Phineas Taylor Barnum was an ambitious man who tried his hand at anything that would come his way. But that seemed not enough for his imagination. He wanted to excel in something the world could feast it's eyes on. After many attempts to find his way, he put his wildest dreams into a magical reality under the Big Top world. P.T. wants to win over the affection of Charity (Michelle Williams), his soon to be wife, and give to her a promised life and show up her father who's mind was elsewhere.
The movie opens with P.T. Barnum (Huge Jackman) in is top hat and long coat imagining those dreams standing under the roof of an enclosed building singing the first number "The Greatest Show". This was just a quick tease of what's forthcoming in the greatest tantalizing musical since "La La Land". First time director Michael Gracey is off to one hell of a start in his first feature film. This movie is fun, looks real, sounds wonderful and has excellent choreography even though it reminds me so much of "Moulin Rouge".
Barnum gathers up a few friends and freaks from around town including a Bearded Lady (Keala Settle) who belts out one of the best songs in the film "This is Me", a 500 pound (or so) man, a trapeze artist played by Zendaya, a dwarf (Sam Humphrey) and his right hand man, Phillip Carlyle (Zac Efron) who's main focus is for the trapeze artist. The Greatest Show is finally assembled in a delicious enchanted musical. The crew even takes a field trip to Queen Victoria Barnum is captivated by singer Jenny Lind (Rebecca Ferguson) when she sings "Never Enough".
​i am a sucker for musicals and this is on my top 10 list for 2017. And for a cost for only $84,000,000, this is a magical well shellacked film and a running time of only 1 hour and 45 minutes, this PG film is fit for all. See it in theaters December 20, 2017.
​By Bob Higgins 4 1/2 stars