Timothee Chalamet is a busy young man with his latest release opening Thanksgiving weekend and Dune pt. 2 on it's heels it's amazing he has time to catch his breath and sleep. In his latest work Bones and All he at least finds time to eat. Director Luca Guadagnino (Call Me By Your Name) puts together a gore fest that is on the cannibalism side of the table. Adapted from the novel of the same name by Camille De Angelis the film shows and tells the story of a young woman Maren (Taylor Russell) raised by her father Andre Holland who keeps her confined to her room.
She leaves him and meets Sully (Mark Rylance) who teaches her to sniff out dead bodies. She eventually ditches him and meets Lee (Chalamet) a scrawny young fellow. When she is invited to a sleepover while passing the time by fingernail painting she chomps down bone and all on her classmate's finger. After rushes home to clean up her bloody self and from there on she is on the run.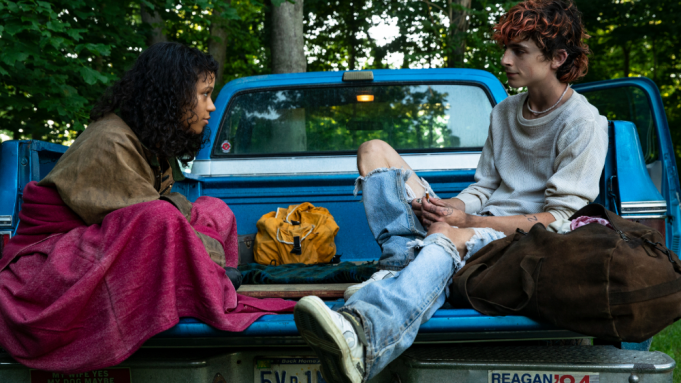 All this blood thirst starts to makes sense to both the kids as they listen to a recording made from Maren's father years earlier as they make their way across the midwest where they run into more 'eaters'. Soon the long road trip slows down as they come to settle down to find out who they really are and become normal kids. This is where the film slows down as well and looses steam with a harsh ending. Timothee and Taylor's roles are molded into an almost picture perfect film that gives you something to sink your teeth into. The film opens hopefully to audience hungry only for popcorn if want. 4 stars (out of 5). Oscar time is coming up and with more releases on the way, we have a concert.