Director Andrew Patterson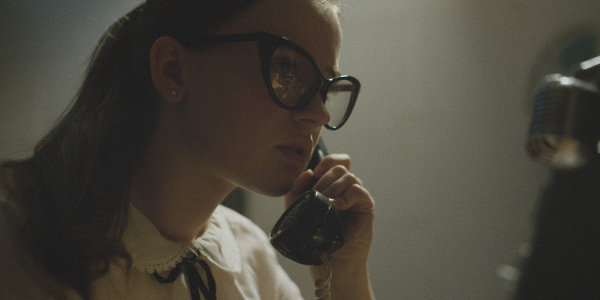 In these dark months of faith over fear where most of the country is hiatus including the shutdown of all movie theaters until further notice, there haven't been many movie releases unless you subscribe to Amazon Prime streaming service. That's where some films that were to hit theaters the last few months went straight to Amazon. One particular film that shall arrive in limited and I mean extremely limited drive-in theaters, because here in Indianapolis, there aren't but just a few. The Amazon small-budget indie film "The Vast Of Night" is just that one to first be shown in those outdoor screens for a couple of weeks before arriving on Amazon in mid to late May.
In the late 1950's set in a fictitious town of Cayuga, New Mexico, a population of 492 the first high school basketball game of the season is getting under way with most of the town filling the stands to support their team. Out for a leisurely stroll to their jobs are Everett (Jake Horowitz) a radio D.J. along with 16 year-old Fay (Sierra McCormick) a switchboard operator. These two luminous kids are the town's communication to the outside and grab your attention from the start.
Tonight is going to be a night to remember for the pair as Everett takes Fay under his wing as she clinches tightly to her new tape recorder. At their work studios, a terrifying sounds enters through one of Fay's switchboard calls. She runs it past Everett then puts it on the air so the listeners can try to decipher it. A caller Billy (Bruce Davis) who's voice we only hear recognized it from his military days. They set out to report on the findings where the screen turns entirely dark compliments to director Andrew Patterson by letting our imaginations tell that part of the story. Other callers ring in to tell their stories. Are they real or memorix?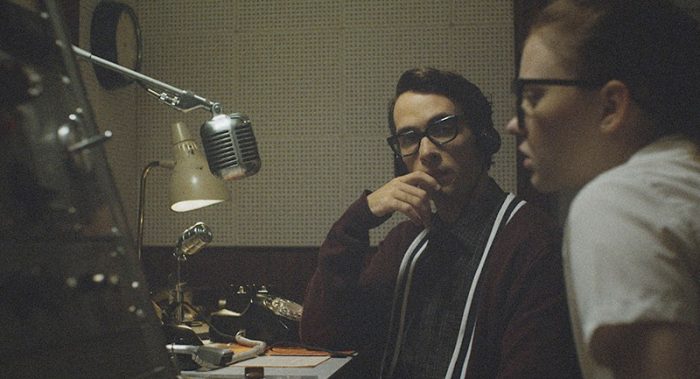 There is a very long camera shot of Fay plugging in one call after the other and with the rapid dialogue, cinematographers Miguel Toan and Littin Menz low, soft light captures was very successful in the paranoia catagory. Are they seeing aliens? Or is it the Russians? All we know nothing has ever flew that high in the sky before. This film is something out of the Twilight Zone as first time director Patterson insinuates. This young team holds this mystery/suspense/sci-fi story and for a small budget film that takes place for one night, it will do very well however it is released. B