IT'S TIME FOR ELVIS to come back to the stage once again as Hollywood won't let us forget the King of rock n roll. This time Baz Luhmann has his shot at reliving the legend with Austin Butler (Once Upon a Time in Hollywood, Dune Part Two) as Elvis. The film takes us back to Elvis's gospel roots in Memphis and Tennessee of which he was so fond of.
He started appearing in flatbed trucks then in small crowds for the exposure become he was discovered by a shady Colonel Tom Parker (Tom Hanks-with a thick accent and lots of beefy makeup). Parker, sucking in nearly half the singer's profits and at the same time feeding Elvis uppers and downers to keep him on stage with very little rest had him make 23 studio albums (remember those?) and numerous movies.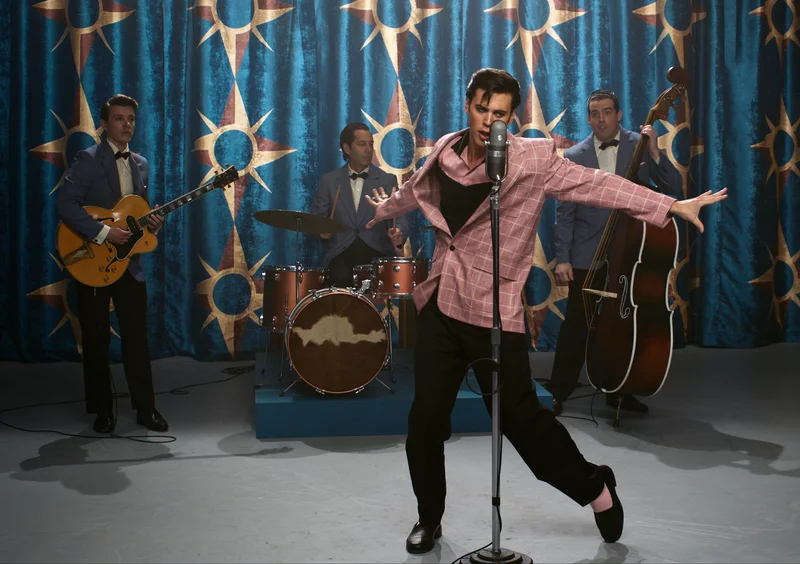 Soon Elvis meet Priscilla (Olivia DeJonge) had Lisa Marie of which he named his flying mansion after. This is where the story looses the singer and dwells on his drug usage. It seems Luhmann was more caught up in the bad part of Elvis he just keep going. The singing was impressive as Austin donned most of the vocals and theatrics and the added guest stars of B. B. King (Kelvin Harrison Jr.) Sister Rosetta Tharpe (Yola Quartey) and Little Richard (Alton Mason) was a nice gesture.
There is mention of him being drafted to perhaps to refrain his hips and feet from swaying and being arrested for being rude and preverted. Soon after his last live stage show here in Indianapolis Market Square Arena June 6, 1977 to a crowd of 18,000. I personally met Elvis the day before his last show (who knew) as his visit to the city led him to my father (a Masseur). I chatted with him and his two body guards and as he whispered in my ear what move to make in a serious chess game I was involved in before dad gave him a massage. I lost but won with free tickets to his concert. Elvis died August 16, 1977. Elvis has left the building but will visit us in theaters this Friday June 24, 2022. He will have to compete with the money maker Top Gun Maverick and the new Ethan Hawke horror flick The Black Phone. 3 (out of 5) stars.